This is the Los Gatos Masonic Hall: The Ideal Venue for Events in the Bay Area
Explore the Los Gatos Masonic Hall, a treasured historical gem situated conveniently on Main Street in Los Gatos, California. Its rich heritage and prime location stand as a testament to the town's vibrant past. Beyond its storied walls, we invite you to uncover the ideal setting for a wide array of events. Our hall offers ample parking and a spacious dining area equipped with a 7-foot projection TV and JBL sound system, creating a modern experience.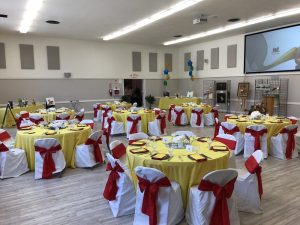 Moreover, our full kitchen, complete with a professional gas range and large industrial refrigerator, ensures that it fulfills all your culinary needs. Whether you're orchestrating executive offsite conferences, hosting enchanting wedding receptions, throwing joyous birthday celebrations, or arranging meaningful non-profit events, the Los Gatos Masonic Hall is here to surpass your expectations.
Talk to some of our preferred service vendors, and plan your next big event!